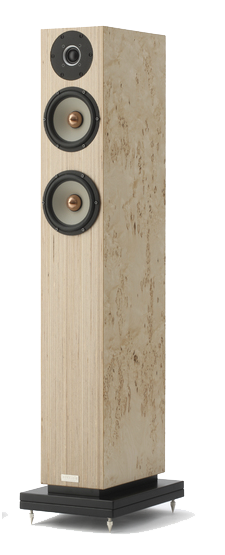 Sara S Signature
These 2.5-way floorstanding speakers are a special author's signature edition. Crafted masterfully and with great commitment, they sound smooth, clean, and unbelievably natural – as if the voice of northern woods themselves plays for you. Fine dynamics and accurate tonal balance, together with rich lively bass, ensure you the best listening experiences.
Reflex-loaded enclosures are made of MDF and custom made Finnish plywood. The speakers are mounted on double basements. At the rear panel, a reflex canal port and WBT Nextgen 0705 AG screw poles can be found.
A 29mm dome tweeter by Seas is used in Sara S Signature, with a patented "Hexadym" system. 6 high-quality magnets are positioned radially, securing effective ventilation and reliable driver functioning. Mid and low frequency range is reproduced by a couple of 145mm Seas woofers with lightweight and solid diaphragms. Rubber surrounds are reinforced with radial stiffening ribs that reduce distortions occurring at long throws of the coils. These drivers also have large copper phase plugs. The crossover filters are made carefully of finest components, such as polypropylene capacitors and air-core inductors.
Type
2,5-way, reflex loaded, floorstander
Drive units
29 textile, ferrofluid cooled dome tweeter, hexadym magnet system (Crescendo),
2 x 145 mm midrange/woofer, copper rings above and below T shaped pole piece, radial reinforced rubber surround
Frequency range
in room response
32 – 30000 Hz
Sensitivity
86 dB/1 m/2,83 V
Recommended amplifier
>50 W
Dimensions (WxHxD)
165 x 1080 x 317 mm
Specialities
Seas Excel drivers, WBT Nextgen 0705 AG, polypropylene capacitors, air core inductors, aluminium reflex pipes, Finnish Plywood 18 mm and Sandwich Veneer 1.5 mm + MDF 16mm + Plywood 5 mm (High Gloss Version MDF 25 mm and MDF 18 mm) cabinet